At the secondary school level, Kenyan students and their families pay school fees to cover tuition, boarding activities, meals, activities, books, school uniforms, exams and medical. This comes to around 60,000 Kes, about $600, annually. At primary school level, the government pay for tuition and parents cater for uniform, books, exams that total to about $20 usd annually. We are currently supporting 60 students in primary, secondary and universities.
 By supporting youth in their secondary education, sponsors give young Kenyans a fighting chance to pull themselves out of poverty and create a viable living for their families. The project aims at giving children from the disadvantaged background a right to education, giving them an opportunity to reach their full potential.
10 years ago, we started Sports for Change, a charity that combines the passion for sports and desire to increase access to quality education for underprivileged youth. In the years that followed, more and more people who had a passion for change joined our cause helping us raise
We have helped more than 5,000 students indirectly by supporting their schools and 60 students directly by paying their secondary school fees.
Five of our students are pursuing their career dreams in different colleges and universities.
5 have graduated and are now working. Our desire is to assist more students to access quality education and we need you to join hands with us and be part of this great cause
Whilst primary school in Kenya is free, secondary school is not, and so even the most promising & bright kids from poor background can miss out on secondary school. Our aim is to provide sustainable support to these kids to take them through to the end of secondary school and beyond. We are currently raising money for next year's fees, ensuring that we grow in a way that does not let any of our kids down in the future.
Students who have completed college
Beth Wairimu
Beth Wairimu hails from Murang'a County, Kigumo District. She has been raised up by parents who are small scale farmers and totally depend on casual labor from the able neighbors. She sat for her K.C.P.E exam in 2009 and garnered 324 marks which secured her a place in Githunguri Girls High School, the parents could not raise the amount needed to enroll at Githunguri. She joined Ikumbi Secondary which is a day school. Her school fees from form two was taken care of by sport for change team. In 2013 she sat for her K.C.S.E and managed to get a grade C and enrolled in T.I.B.S in 2014 to pursue a Diploma in Hospitality Management for two years. Her college fees was well taken care of by Sports for Change team.
Beth graduated June 2017 and she is now working.
Carol Wathigo
Carol is from Gachocho village. She has 2 brothers and is a partial orphan. Her father passed away when she was 10 years. Her mother is unemployed, she depends on casual labor that she does in their neighborhood. Carol sat for the 2012 Kenya Certificate of Secondary School (KCSE) and enrolled at Thika Institute of Business Studies to study Food Hotel and Catering Management. Favorite food is chapati and stew. She graduated an now working at Hills gate homes in Namanga.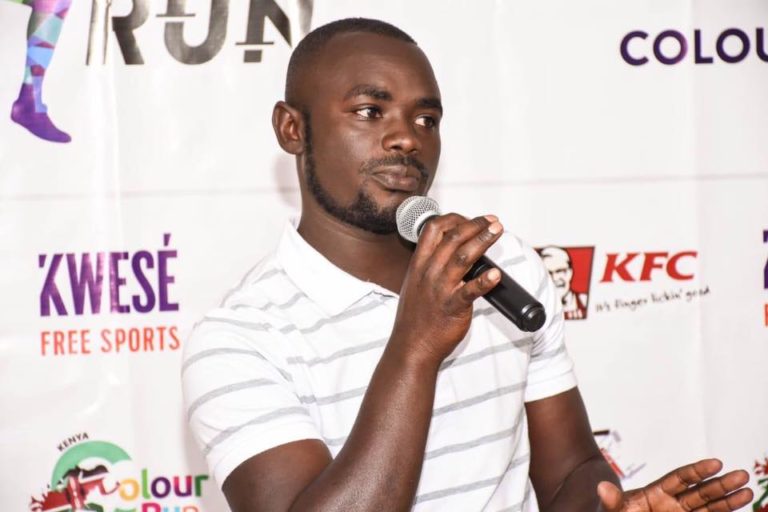 Julius Muchiri
Julius lost his parents when he was very young. He lost his dad when he was in class one and his mom when he was in class eight. He worked hard at school and passed well, but he could not join form one as he had no one to cater for his school fees. He had to do casual jobs to feed himself and his siblings. Due to the hardship, he at some point contemplated committing suicide. A local teacher in his village connected him to Sports for Change who paid his fees from form one. Julius graduated in 2017 in Structural engineering.
Esau Osome Amtabi
Esau Osome Amtabi,was born in 13/06/1991 in Nairobi. He come from a family of 7 children. He joined school in 1999. His school life was challenging, he almost drop out of school in 2002. By good luck free primary education was introduced. He managed to complete primary school education. But he performed poorly due to the hardship he underwent through. He ended up being employed at one of the construction in kawangware. His dream by then seemed dead. He lived in the streets for a few months, he was rescued and joined a children centre in Uthiru. He re-started school from class Seven. This time he performed well and joined secondary school with support from youth of hope organization. He is now taking art at Bobea Art Centre with support of Meera Whipple a friend of Sports for Change. He no longer requires any help or sponsorship, yet is always looking for a market for his artwork!
Anne Wambui
Anne comes from Gachocho village in Kigumo constituency. She is an only child who currently lives with her aged grandmother. Anne applied for bursary sponsorship in 2010 but didn't qualify. Desperate, she turned to the area chief for assistance. The area chief then sort to help her and got Sports for Change contacts through a friend. Anne has now finished Form 4, and is now waiting to join college. Her favorite subject is English, and she has reached her aim to study Food Science at college. Though shy, she wants to be an air hostess. She got a C- in her final exams, and her education of a Food Science diploma will be sponsored by Craig Oulton's Barefoot Run sponsorship.
Christine Wanjiru
Christine comes from Ndiara village in Kigumo constituency. She has parents, two brothers and one sister. Her parents own a small piece of land where they live. They work as casual laborers at the nearby tea farms to feed their children. Christine is in form four at Ruchu Girls Secondary School. Her favorite subject is Geography and her dream is to be a surgeon. Her favorite meal is Chapati and stew. UPDATE: Christine finished high school in the Year 2013 with a C-.She joined college and took a Diploma in Journalism which was sponsored by Craig's marathon run.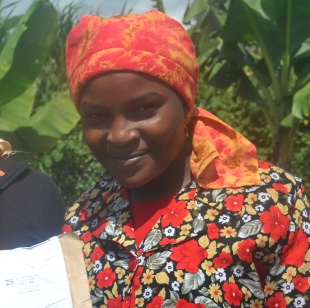 Margaret Wangui​
Margaret is the sister of Elizabeth, however they share little in common with Elizabeth being outspoken and brave and Margaret being much more quiet. The two sisters are from a family of 14 children and they live in Kimotho village, Kigumo constituency. They were one of the victims of post election skirmishes in 2008. She sat for her KCSE in Githunguri Girls School year 2016.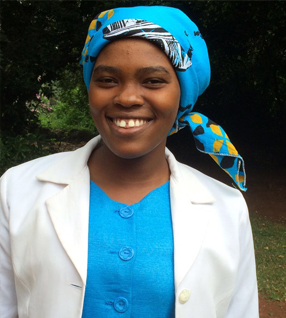 Elisabeth Wairimu
Elisabeth is a Former student at Gitugi Girls' High School. She is from a family of 14 children and they live in Kimotho village, Kigumo constituency after they were displaced during the post-election skirmishes in 2008. Elisabeth joined form one with 318 marks. This, according to year 2010 rating, was an average performance. She has improved greatly and is currently our best performing student. Elisabeth has been sponsored for the last three years by Dean and his family, who continue to support her. UPDATE 2016: Elisabeth is our promising student that we met 7 years ago. She went to Gitugi Girls High School where she sat for her Kenya Certificate of Secondary Education (KCSE) and got a B. UPDATE 2018: She joined Kenya Medical Training College, Siaya September 2015. She has now completed with a diploma in medicine and surgery and we would like you to know that she has finally graduated December 2018 and she doesn't plan to stop it there because she wants to continue with her education and do a bachelor course till she becomes a surgeon.
Students in College/Universities
John Mathinji Karatu
John was born and brought up by his parent whom both are lame. They live in Nyandarua County in rehabilitation centre. He sat for his K.C.P.E and managed to get 309 marks and got a place in Kangui Boys School. He could have done much better than this were it not for the challenges of his parents, who despite their disability, were able to struggle to give him the best they could. He successfully managed to complete his O level and scored a mean grade of B plain year 2017. John joined Technical University of Kenya August 2018 and he is taking a Bachelor in Mechanical Engineering which is going to take him 5 years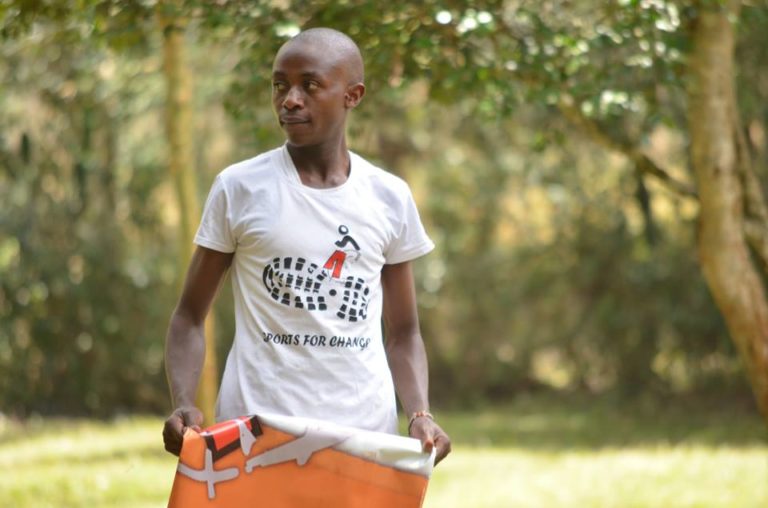 Eric Muriithi Wanja
Eric is a boy from a single parent home. His uncle who takes care of him is unemployed. Eric has 2 brothers and 3 sisters. His ailing mother is a casual laborer in a tea plantation and Eric has often had to drop out of school to help his mother in plucking tea to assist her to get food and clothing for his younger siblings. He was rescued by his teachers who continued to support him until Sports for Change took over. Amid all this, he sat for the Kenya Certificate of Primary Education (KCPE) in 2010 and attained an impressive 314 marks out of 500. He is fully supported by the Sports for Change Fund. Eric sat for his Kenya Certificate of Secondary Education and got a B-. He joined Masinde Muliro University in Kakamega September 2016. He is now in third year taking a degree in Fisheries.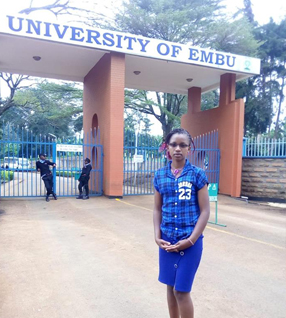 Margaret Wamuyu Wanjiru
Margaret Wamunyu Wanjiru did her KCPE in 2013 and scored 321 marks.She was admitted to Githunguri Girls' High School. Unfortunately the parents could not afford the fees charged by the school.Her form one fees was paid by a well-wisher who later withdrew. This forced Margaret to drop out from the school of her dream to join a day school with scant earning resources but lower fees. Margaret mother got married when she had 4 kids.She is the first born.The foster father is quite interested with their mother but has no interest in educating the children.The mother is a peasant farmer living from hand to mouth. Margaret applied sponsorship with Sports for Change in December and is now gladly back to a good boarding school.She sat for her KCSE 2017 and got a mean grade of C+.Margaret joined University of Embu last year(2018) and she is taking Bachelor of Education in Science.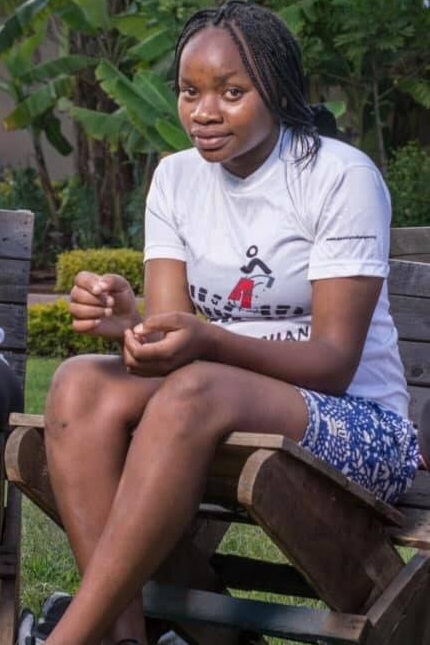 Cynthia Achieng
Cynthia Achieng lives in Mukuru Kwa Reuben slum with her family. We first visited her because of her good KCPE results of 365, yes,365. But this short trip ended up being a long term engagement for us. She was very disturbed by the fact that her mum couldn't afford her secondary school education fees. Even with her good performance,she had no hope of proceeding with her education. Her mum, who is only 32 years, got five children, she is jobless and her husband abandoned them many years ago. Cynthia went to Dr. Kamundia Girls' High School year 2015. She sat for her final exam last year (2018) and performed very well. She was able to get a mean grade of B- and we are looking forward to her next level of education. UPDATE 2019: Cynthia is now settled at Rongo University. She is pursuing a degree in Health Record Information Systems."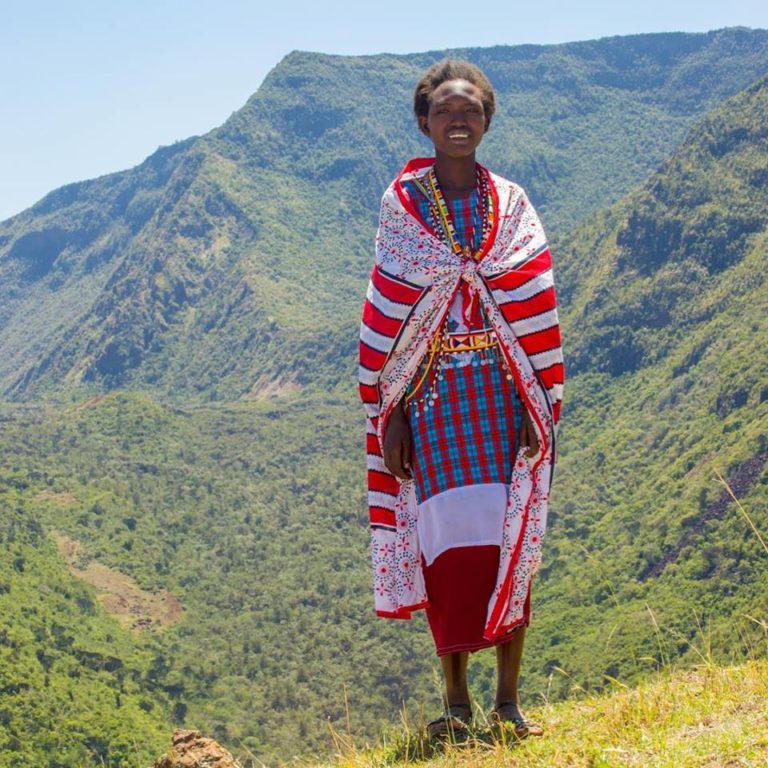 Lillian Tuken
Lillian Tuken is a Maasai girl from Suswa in Narok County. She went to Kisharu Primary school and managed to get 311 marks out of a possible 500marks. She joined form 1 in 2016 at Dr. Kamundia Gathuthi Girls in Nyeri. She is the firstborn in a family of 10 kids. She is in form four and wants to become a pilot.
Pulei Abigael Namunyak
Pulei is 15 years old, a 3rd born in her family. She lives in Mt. Suswa conservancy a very remote but very beautiful place. The population there is very small but very close. They support each other where they can. They all lead Maasai traditional life and live in manyattas (Maasai traditional houses). She passed KCPE very well and was admitted in OleTipis Girls' High Schoool, a national school in Narok. Her dream is to become a doctor.
Simon Sootian
Simon Sootian hails from Suswa Narok County. He is the firstborn in a family of five kids. He has two brothers and two sisters. We met him during our trip to Maasai land where we had gone to learn Maasai culture and experience camping in the wild.He had done his final exam K.C.P.E at Kisharu primary school and passed with flying colours. He attained 357 marks out of 500marks which was amazing and this drew our attention to him. He got a place in Kenyatta high school Mwatate(2017) and since the enrollment Sports for Change has been paying for his school fees. Simon is in form three now.
Faith Wanjiru
Faith is our youngest student. Her dream was to join Kamahuha Girls. She worked very hard, passed very well and got an admission letter to join a school of her dream but she couldn't afford it. She joined a day school heartbroken and very demoralized. Sports For Change heard her story and decided to give her an opportunity to shine. She has now joined Kamahuha Girls and she is very excited. Her other dream is to become a Math teacher.
Ann
Ann is the 3rd very deserving girl who has joined Sports For Change family this year. She is from winzyei village a remote place in Mwingi. She got 354 marks in KCPE. She joined form one in Mulango Girls High School in Kitui County. Her dream is to become a lawyer.
Riyaq Hassan
Riyaq Hassan is one of our lucky students to join Sports For Change this year. She was among the top 5 students in her school. She went to Namanga Primary School at the border of Tanzania and Kenya. She got 354 marks which was a very good performance and got a place in Noonkopir Girls' Secondary School in Kitengela. She is the first born in a family of 9.They have been raised by the mother and a step dad who is a security man. The dad to Riyaq abandoned her mother before she was born, but the mother has been there for her and the step dad helps where he can. She wants to work hard and become a doctor and help her community.
Brenda Wambui
Brenda hails from Gataka village. She lives with her mother and two siblings. Her father abandoned them 6 years ago, and her mother works as a casual laborer to fed for them. They live in a house donated by a well wisher. Brenda had to drop out of school during her first term (semester) in high school due to lack of school fees. Sports for Change got to hear of her story through a sister organization. We connected her with a lovely lady by the name of Asenati who together with her friends helped raise funds to take her back to school. She is now back at her old high school, Magomano Girls in Nyandarua, where she is already catching up with her studies.
Joseph Gakunga
Joseph's primary life was full of challenges but he managed to score 397 marks out of possible 500 marks in last year KCPE. He was among the best in the county. He was admitted in Njiiris Boys High school,one of the top secondary schools in a Muranga County. He was late to report due to lack of school fees and shopping but a Good Samaritan helped and managed to pay for his term 1 and 2. Joseph's dream is to become a neurosurgeon and give back to the community with his services. His mother is a single parent and depends on casual jobs for a living. She is originally from Nyeri but she has lived in Ndakaini for 8 years in different homes. She looks for employment, gets a small house within the land and stays with her 3 kids aged 17,14 and 9 years. Her casual job gives her an approximate monthly payment of 50 USD. Joseph is in form three now.
Faith Talesh
One of our new Maasai girls, Talesh was rescued from early marriage two years ago. Her father had found her an old man who had already paid the dowry to take her. Her mother was devastated and she helped her escape, she now lives with her sister miles away from her family. She joined us to visit her family after 2 years of been away. One of SFC requirements before admission is to visit the family to confirm the details written on the application letter. Talesh passed very well, she had 357 marks out of possible 500 marks. We got her a place in Dr. Kamundia Girls. Talesh is in form three and wants to become a lawyer in the future to fight for girls' rights.
Kirarian Lalii Sarioyo
The boy has got both parents and five siblings. He is the firstborn of the family. Both parents are illiterate thus making it hard for them to embrace education. They are unemployed and their main means of earning a living is through casual works and charcoal burning.In this family,the mother is very much hardworking in order to sustain the family since the man has been carried by alcoholism thus forgetting his responsibilities as the head of the family. The family resides at Doldol, Laikipia North; one of the remote areas in Kenya with a long history of poverty, drought and other natural calamities. In this area, people mostly depend on Government aids in order to survive. Lalii is a form two student at G.G Rumuruti Boys High School.
Jecyntah Naserian Soola
Hallo, Jecynta Naserian Soola is from a polygamous family of an old man of approaching 80 years now.She has 8 real brothers and sisters of which some dropped out of school due to luck of fees.Others are still in high school while one is in college but all struggling. Jecynta studied in Olgumi Primary School where she did her KCPE in 2016 and got 386 marks and joined Nakuru Girls High School. She is now in form three.Thanks to Sports for change for enrolling her to your program.
Patrick Parmuat
Patrick Parmuat is a lovely Maasai boy from Oloitok-tok. He was rescued from drugs when he was taken to Teule Childrens Home. He joined Sports for change in 2016 when he was joining form one after we met him in 2015 during a visit to the childrens home. He is a form four student at Kangema Boys School and a top performer in his class and form. He wants to be an Electrical engineer after school.