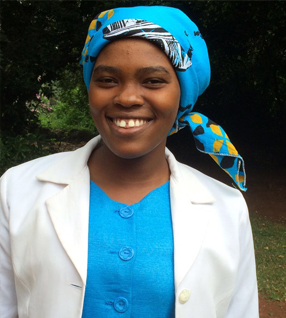 We sponsored Elisabeth through High school and College. She graduated December 2018 with a diploma in Medicine and Surgery from Siaya medical training college and attained certificate to practice. She is currently working.
My name is sootian Simon Teketi from mount Suswa conservancy-Kajiado county. My life has been a difficult one in an early age, just like any other child coming from a humble background where non of the parents had any formal education skills, the struggle was real and finite.
I studied at a local public primary school that was nearly ten kilometers far from my home, my parents could encourage and motivate me to make me realize the importance of learning and true to their efforts God blessed me with a shrewd brain that I did very good in school topping every examination, parents hardly afforded even the smallest school fees they were required from by the school because of their financial position.
In 2016 December I sat for my KCPE examination and passed with a fine grade that was never witnessed since the school was established until then but the worse part of it was the question *so what next* many could predict the end of my academic journey but against the expectations of many in the society that did not value education rather saw me as a ready herdsman for their livestock, one day I was a signed to be a night guard for a group of youths that were doing team building in mount Suswa ,As my age mates,I connected a lot with them. I shared my story over bonfire stories. Alot of shared there stories too. I realized they were also needy students who got lucky to get their education sponsored by Sports For Change. My night job was a divine connection to them. What if I had looked down on been a night guard ?
The founder of the organization Ms. Waithaka was leading the trip. She promised to support me fully with my education, little did I know this organization will be my sponsors for the next levels of my education.
I joined a national high school (Kenyatta high school-Taita) completed 3 years ago. Iam now in one of the top universities in Kenya-Masinde Muliro University of Science and Technology) doing a bachelor's degree in *BSc Health promotion and sports science* my ambition remains to be a great person in the future to serve humanity as the Lord had planned. I have given hope to my parents and the community at large that no man is limited no matter what.
We sponsored Julius through High school and College. He did a diploma in Highway Engineering at Kenya Institute of Highway and Building Technology. He completed his course 2017 successfully and he is currently working.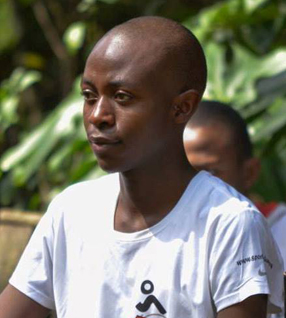 Eric joined Masinde Muliro University in Kakamega September 2016. He is now in third year taking a degree in Fisheries.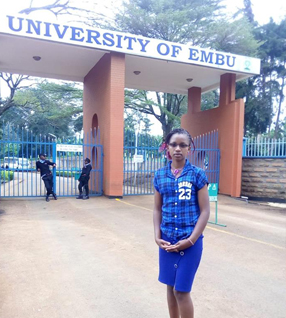 Margaret joined University of Embu last year (2018) and she is taking Bachelor of Education in Science.
Beth graduated with a diploma in Hospitality Management  from Thika Institute of Business Studies and is now working In Thika.
Caroline was among the first students to join sports for change 13 years ago.
"I joined the Sports for Change Org in 2010 when I was in form two. I had dropped out of school due to lack of school fees. 
Soon after I was done with my high school education, I joined college and pursued a diploma in Hotel and catering management. I then got a job after graduation at Kibo lodge safaris in Amboseli before I moved to the coastal region.
The hotel business was doing pretty well until covid struck. No one was prepared for it and so it took us off balance since that's the only thing I knew how to do best.
I started doing hotel bookings and getting a commission for every guest and have been doing that since.
I left the hotel industry a year later and have been doing hotel bookings and excursions in Kilifi county. I trained to be a masseuse and I love it!
I would love to have my spa one day and empower other young girls and boys that it's okay to embrace change after all. 
I'm a proud beneficiary of the Sports for Change Org and I'm grateful. I have started giving back through the charity by contributing 1,000 every month towards students school fees kitty.
Blessings to everyone who gives effortlessly to help needy kids. May your cups be full always. 🙏🏽🙏🏽
John joined the Technical University of Kenya in August 2018 to pursue a Bachelor in Mechanical Engineering. This year, we were able to get him a scholarship to India at the Kalinga Institute of Industrial Technology, where he is currently a second year student doing a Bachelor of Technology in Mechanical Engineering. 
Cynthia joined Sports For Change in 2014. We sponsored her all through high school. She passed very well and joined Rongo University in September 2019 to pursue a degree in Health Records Information Systems. She is currently in 3rd year.
Lilian joined Sports for Change in 2015. We sponsored her all through high school. She passed well and got a place at Nazarene university to pursue bachelor degree in commerce. She is currently in 3rd year.
Moraa a bright girl who scored 365 in 2021 KCPE and number one in her school, could not get support from big institutions that offer scholarships to thousands kids like her, because she did not originally came from that area.
Her parents relocated from Kisii , came to look for greener pasture in Murang'a county. Her case was presented in her church by a community leader, but she did not get any help. Her mother approached Moraa's teachers and begged them to help her daughter in any way they can. But no help came through . Moraa stayed home and witnessed all other kids go to school. 
After 3 weeks at home , they lost hope and she joined her mother in tea picking . A local community leader heard of her story and reached out to Sports For Change . We visited the girl and her family at their home. 
Their case was very needy ,The house they call home had no furniture , not even mattresses only heaps of clothes in different corners that they spread at night to sleep on. Moraa seemed very quite and in deep thought through out our interviews. She shed tears now and then. Things changed when we gave her a sponsorship cheque. She smiled and thanked us endlessly.
We got friends together to buy for the family beds and mattresses . Moraa joined Chania Girls High 4 weeks late but she was positive and very determined. During holidays she join girls at youth for Hope in nairobi for studies, mentorship and counseling.